Vitos' Summer Hockey Development Camp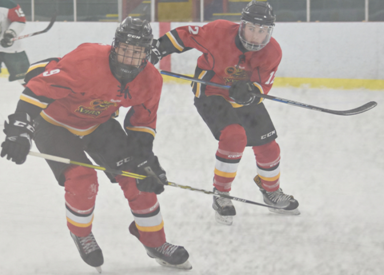 Wednesday April 3, 2019
The summer is coming up shortly which means that it is almost time for The Saint John Vito's Summer Development Camp! The registration form can be downloaded here.
Players must be registered by June 1st, 2019.
​
The camp is broken down into 4 components:
1. Off – Ice Training (Now and Ongoing)
2. Off - Ice Testing (First Session June 26 at 6:30 at Afterburn Rothesay)
3. Individual Puck Skills (First Session July 04)
4. Player Development – Individual and Team Tactics (First Session July 08)
​
1. Off - Ice Training - Led by Terry Blizzard and his Afterburn Staff or a Facility of your choice
a. A significant area and opportunity for improvement is our off-ice strength, speed and conditioning. In gym training should be a minimum of 3-4 days while still in school and increase to 5-6 days once school is out.
b. The Major Midget Vito's have secured membership rates and training plans with Terry and Afterburn. All memberships and payment of said memberships are between the player and Afterburn. Costing, Schedules, coaching and meetings will be set up through the Player and Terry or your strength and conditioning provider.
​
2. Off – Ice Testing – Led by Terry Blizzard and his Afterburn Staff in conjunction with the Vito's Coaching Staff (At the Afterburn in Rothesay)
a. Will be completed 2 Times over the course of the Development season. After the bench mark is obtained we will be measuring improvement by each player. The commitment required to improve in this area will dictate the commitment the player is prepared to make for the upcoming season.
b. Bench Mark testing will be completed at Afterburn Wednesday June 26 FWDS – 6:30-7:30 and DEF / GOALIES 7:30-8:30)
c. Mid-Season testing will August 21 same groups, same times and same location.
​
3. Individual Puck Skills – Led by Major Midget Vito's Staff
a. Starting July 04 Sessions will take place at the qplex and run from 7:30-9:30pm -– full schedule below.
b. Focus will be on individual positional puck skill development, repetition and small area games
​
​
4. Individual and Team Tactics - Led by Vito's Staff and Invited guests
a. Starting on July 08 at the qplex and will take place between 7:30-9:30pm – each session will run 1 hour per night
b. Session will run as game like practices and individual skills.
​
​
Cost:
Off-Ice testing, Individual Puck Skills and Team Tactics
$525 per player which includes minimum 20 hours on ice and instruction, 2 testing sessions Payment can be made at the first on-ice session.
​
Off-Ice Training
Memberships will differ depending where you decide on training. Afterburn Performance in Saint John or at their Rothesay Location has offered a specialized rate. Feel free to drop in, call at (506) 652-9355
​
Any questions do not hesitate to contact us
​
Moe Arseneault
​
Mark MacDonnell
​
Co-Directors of Hockey Operations
General Manager
Saint John Major Midget AAA Vito's
Did you like this article? Share it!
x
Term of use Shark Media & Sport
The content of this site is private and purely informative. The rights of a visitor to this site cannot, therefore, be derived from the content of this website. This website is operated by and was created by SHARK MEDIA & SPORT. The data contained within this website are the intellectual property of and are copyright-protected. The data herein cannot be copied or reproduced without the prior consent of or SHARK MEDIA & SPORT, other than in contexts requiring on-line searches. However, you may print out entire pages of this site for personal use. For further information about the use of this site, please communicate with SHARK MEDIA & SPORT.