Moncton Wins Atlantics in Double OT Final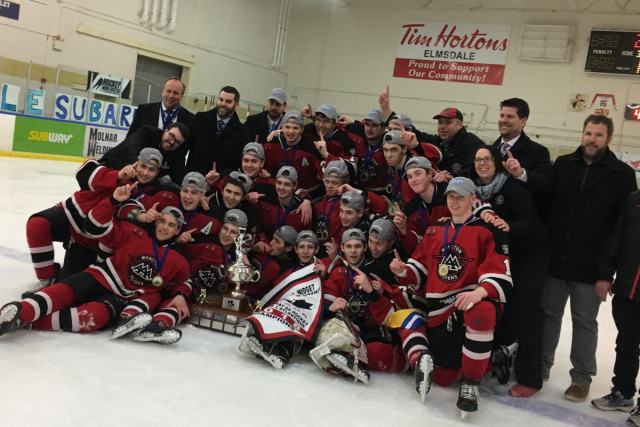 Sunday April 1, 2018
The Moncton Rallye Motors Nissan Flyers erased a 2-0 first-period deficit and came back to win in double overtime to take the Atlantic Major Midget AAA Championship Game on Sunday in East Hants, NS.
Mark Richard (1-1) and Lucas Cormier also scored for the champions with helpers coming from Cole Cormier, Julien Hebert, Miguel Poirier, Evan Jackson, and Cole Darrach.
Dave Gagnon and Ben Allison had first-period goals for Dartmouth with assists coming from Isaac Chapman, Matt MacKay, Luke MacLean and Jacob Quillan.
Daniel Thompson took the win in the pipes for Moncton over Nolan Boyd of Dartmouth.
Moncton outshot Dartmouth 33-29.
Dartmouth lead 2-0 after the first period and 2-1 after the second period.
Moncton has won the right to represent Atlantic Canada at the 2018 Telus Cup in Sudbury, ON April 23-29th.
Did you like this article? Share it!
x
Term of use Shark Media & Sport
The content of this site is private and purely informative. The rights of a visitor to this site cannot, therefore, be derived from the content of this website. This website is operated by and was created by SHARK MEDIA & SPORT. The data contained within this website are the intellectual property of and are copyright-protected. The data herein cannot be copied or reproduced without the prior consent of or SHARK MEDIA & SPORT, other than in contexts requiring on-line searches. However, you may print out entire pages of this site for personal use. For further information about the use of this site, please communicate with SHARK MEDIA & SPORT.