Moncton Captures Ice Jam Title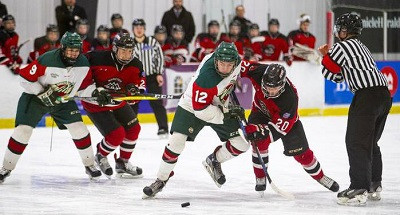 Thursday January 24, 2019
Story courtesy of the Chronical Herald
Alex Gallant scored 2:58 into overtime to lift the Moncton Flyers to a 1-0 win over the Kensington Wild in the major midget final of The Chronicle Herald East Coast IceJam hockey tournament on Sunday at the BMO Centre.
The all-New Brunswick/P.E.I. Major Midget Hockey League battle featured an outstanding goaltending duel between the Flyers' Jacob LeBlanc and the Wild's Chad Arsenault, who was named the tournament's top goaltender. Arsenault allowed only five goals in six games.
LeBlanc made several game-saving stops late as the Wild failed to capitalize on their fourth power play of the game that carried over from the third period to the start of overtime.
In semifinal play earlier on Sunday, the Wild defeated the two-time defending champion Cape Breton West Islanders 4-1 while the Flyers pulled out a 2-1 overtime decision over the Saint John Vito's on a goal by Patrick LeBlanc.
First-team all-stars were: goalie, Grant Sanford, Valley; defence, Zach Biggar, Kensington and Sam McKinney, Fredericton; forwards, Riley Kidney, Cole Harbour, Jacob Melanson, Weeks and Yannic Bastarache, Moncton.
Second team all-stars were: goalie Lucas Wiseman, Wester; defence, Lucas Robinson, Western and Isaac Wilson, Kensington; forwards, Connor Richard, Saint John, Colby MacArthur, Kensington and Blake Deacon, Valley.
Individual awards went to goalie, Chad Arsenault, Kensington; best defenceman, Cameron Whynot, Valley; best forward, Drew Elliott, Saint John and best first year, Whynot.
Did you like this article? Share it!
x
Term of use Shark Media & Sport
The content of this site is private and purely informative. The rights of a visitor to this site cannot, therefore, be derived from the content of this website. This website is operated by and was created by SHARK MEDIA & SPORT. The data contained within this website are the intellectual property of and are copyright-protected. The data herein cannot be copied or reproduced without the prior consent of or SHARK MEDIA & SPORT, other than in contexts requiring on-line searches. However, you may print out entire pages of this site for personal use. For further information about the use of this site, please communicate with SHARK MEDIA & SPORT.